Christmas Tree Storage Bags

Proper Tree storage means finding a protective way to pack your tree to protect it from dust, moisture and harm....
We've got your Christmas Tree Storage all Wrapped up!
When the presents are unwrapped and the Christmas tree is starting to look messy, it's a little bittersweet. On one hand, we're ready to put away the Christmas tree and get back to our regular routine, but who wants the festivities to end?
When it comes to having a clean slate for New Year, it's nice to have an organised home and it feels good to get your house back to normal. The time to think about your Tree storage is now, whether you already have a tree or looking to buy a new one this year, it will feel great when you are ready to pack your tree away that you have the perfect bag ready to go.
Your Christmas Tree is an investment that is filled with precious memories. We want to store them safely, so unpacking them next year is easy (plus, let's face it, Christmas Trees are often bulky and tough to store). You need a Tree storage solution that is simple and easy!
Bag vs. Box
When storing your artificial tree, we often use the original box, but somehow, once the tree's been fluffed and freed of the original tree storage box, it never seems to fit back in there, does it? If you're struggling with getting your artificial tree back into the Christmas tree storage box, try cinching it with old belts! This great Christmas decoration storage hack won't harm the tree but will get your pine or spruce to fit.
If your Christmas tree storage box is not up to the task or you are having problems moving it, then a Tree Bag is the ideal solution.
Our bags feature heavy duty handles on both ends and on top to ensure they carry the weight of your tree and make it easy to move.

Bags can be stored upright to save on space or fit into small spaces.

Tree bag sizes are ideal to fit through the manhole in your home so your tree can be stored up in the roof space, conveniently out of sight until next year.

Wide zipper opening means no tape required and large opening makes getting tree in and out of bag simple.

Waterproof bag keeps your Tree clean, moisture free and bug free.
Benefits of storing your Tree in a Bag
Christmas Complete storage bags are made using a heavy-duty Reinforced 600 denier Polyester fabric, which is durable and long lasting, so they won't break down and disintegrate. It is similar to fabric used in rugged outdoor camping backpacks, boat covers, and patio furniture. This reinforced material minimises tearing when pressure is applied by metal tree fronds, avoiding rips and tears through the fabric.
| | | |
| --- | --- | --- |
| | Tree Bag | Large Tree Bag |
| Size | 130cm x 40cm x 40cm | 150cm x 60cm x 40cm |
| Maximum Length | 130cm | 150cm |
| Fabric | 600D Reinforced Polyester | 600D Reinforced Polyester |
| Dual Opening Zipper | Yes | Yes |
| End Carry Handles | Yes | Yes |
| Top Carry Handle | Yes | Yes |
| Wheels | - | Yes |
| Easy to Clean | Yes | Yes |
| Colour | Red or Black | Red or Black |
| Tree Size | Fits up to 8ft standard tree or 7ft with lights | Fits up to 10ft tree or 8ft with lights |
Choosing the Best Size Bag for your Tree
When determining the correct bag for your tree you want to consider the packed dimensions of your tree, the longest part of the tree and, importantly, the weight of your tree. It can be fine to pack it all into one bag and then find it is too heavy to move. This is where you may choose to use two storage bags to distribute the weight of your tree, and will allow extra space for decorations, wreaths and garlands.
Determining the correct bag size requirements for your tree can be a bit tricky so check your tree component
Tree Size

Maximum Length

Dimensions – width, height, length

Weight
It depends if your tree has removable hook-on branches or hinged folding branches. Our regular Tree Bags are generally recommended for standard unlit trees up to 8ft. Trees larger than 8ft or with built-in lights, we suggest two bags or Large Bag on Wheels.
Be sure to measure the longest part of your tree to ensure it is less than 130cm for regular Tree Bag and 150cm for Large Tree Bag.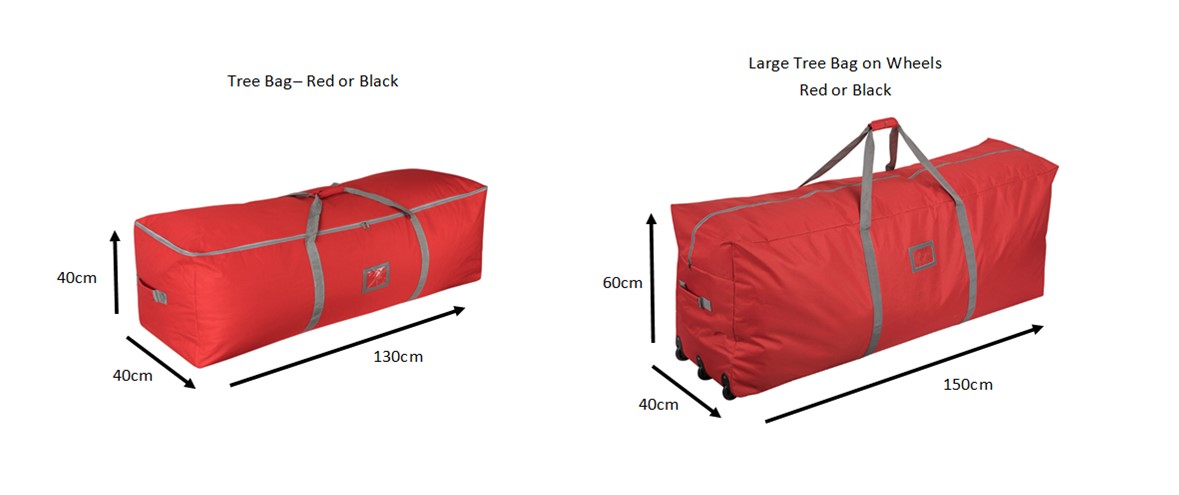 Multiple Storage Uses
Our strong bags are great for multipurpose storage including camping gear, sports equipment and blankets and bedding when not in use, they also make a great spare suitcase for travel. They pack flat when not in use and being reinforced polyester, are durable and long lasting.
Proper Tree storage means finding a protective way to pack your tree to protect it from dust, moisture and harm. Ensure next year's decorating is stress-free by being organised and methodical as you put away your Christmas storage. When next Christmas rolls around, getting out your tree will be a breeze.
Bags are available in Red or Black
Matching Wreath Storage Bags in Red or Black as well as Decoration Storage Boxes and Cubes